In many industry applications, in order to achieve a certain purpose, it is necessary to frequently replace SIM cards for terminal devices, while manual replacement of SIM cards for devices is not only inefficient but also quite expensive。
The integrated solution of Eou technology cloud SIM is to store and manage a large number of SIM Cards through the centralized storage and management of the card pool device, and to distribute them in real time through the SIM scheduling system when the terminal device needs the SIM card, so as to greatly reduce the cost of card replacement and improve work efficiency.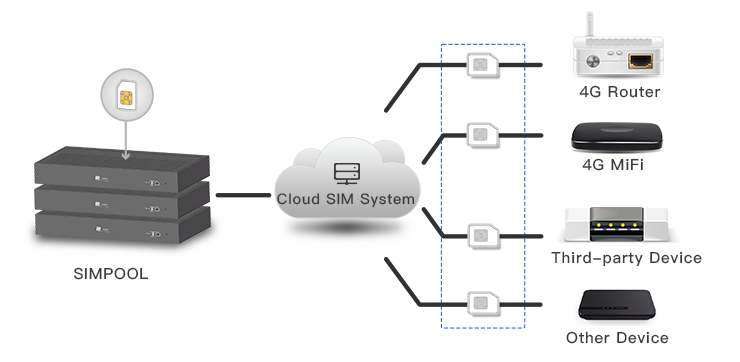 Application case:
Application of cloud SIM technology in data roaming industry:
More than 60 percent of international travelers are afraid to use the service because of high data roaming fees. And the application of cloud SIM technology enables overseas tourists to enjoy local capital fees even when traveling around the world, without worrying about the cost of data roaming.
Foreign travelers can only carry MiFi devices that support cloud SIM technology. When the MiFi devices are turned on when they arrive in the destination country, the cloud SIM exchange system will automatically identify the MiFi location and select a local SIM card from SIMBank to be assigned to the MiFi devices to provide WiFi hotspot services
Application of cloud SIM technology in mobile testing industry:
Mobile operators and service integrators often need to test their networks and systems extensively and repeatedly in order to ensure the normal stability of their service quality, user experience and billing systems. The adoption of intelligent test terminals based on cloud SIM technology makes it easier for mobile operators to build more powerful test environments.
Mobile operators only need to spread test terminals throughout their network coverage, and the cloud SIM scheduling system can automatically allocate SIM cards from SIMBank according to test requirements, so as to verify their systems and services through real-time end-to-end performance testing of voice, SMS, MMS, USSD, FTP, WAP/HTTP, SMTP, etc.
Application of cloud SIM technology in the IOT industry:
The advantages of cloud SIM technology are also obvious in the IOT applications with large traffic demand. For example, in the outdoor LED advertising screen application, it is necessary to update the advertising content on an irregular basis. Manual on-site updating is time-consuming, laborious and safe. If the built-in SIM card is automatically updated, as the period is not fixed and the size of the traffic package is difficult to be determined, the utilization rate of the SIM card is not high and the traffic cost is high.
By adopting cloud SIM technology, the LED advertising screen itself does not need to insert the SIM card. When a certain advertising screen needs to update its content, the virtual SIM exchange system will automatically select a suitable SIM card from SIMBank and assign it to the advertising screen to provide data traffic service. After the content update task is completed, the SIM card returns to SIMBank and waits to be redistributed to other advertising screens. Greatly improve the efficiency of content update, improve the utilization rate of SIM card and reduce the traffic cost